Self-Sufficiency Standard Tableau Now Available to the Public
The Women's Foundation for the State of Arizona revealed the updated Self-Sufficiency Standard Tableau on April 12 during their virtual luncheon series.
Introduced in 2002 to Arizona, the Self Sufficiency Standard depicts a realistic measurement of the income needed for families in this state.
Many workers in Arizona have earnings that fall far short of what's needed to meet basic family needs, even if their income is well above the official federal poverty guidelines. This is due to shortcomings in the national guidelines, which adjust for family size but not for other critical factors, including where a family lives or the age of their children.
Developed in partnership with the University of Washington's Center for Women's Welfare, the updated 2022 Self-Sufficiency Standard for Arizona provides a detailed county-by-county breakdown of the income families of 70 different configurations need to make ends meet in all 15 Arizona counties. It also documents how public support, such as childcare assistance, enables families to meet their basic needs while moving towards self-sufficiency.

The Self-Sufficiency Standard indicates the income working families need to meet their basic necessities without public or private assistance. Basic minimum needs include:
Housing
Child care
Food
Transportation
Health care
Miscellaneous expenses (clothing, telephone, household items)
Taxes (minus federal and state tax credits)
Emergency savings based on realistic living expenses for families
Created by Dr. Diana Pearce in the mid-1990s, the Self-Sufficiency Standard is more accurate than the official poverty measure (OPM), which is more than fifty years old and does not account for all of the expenses listed above.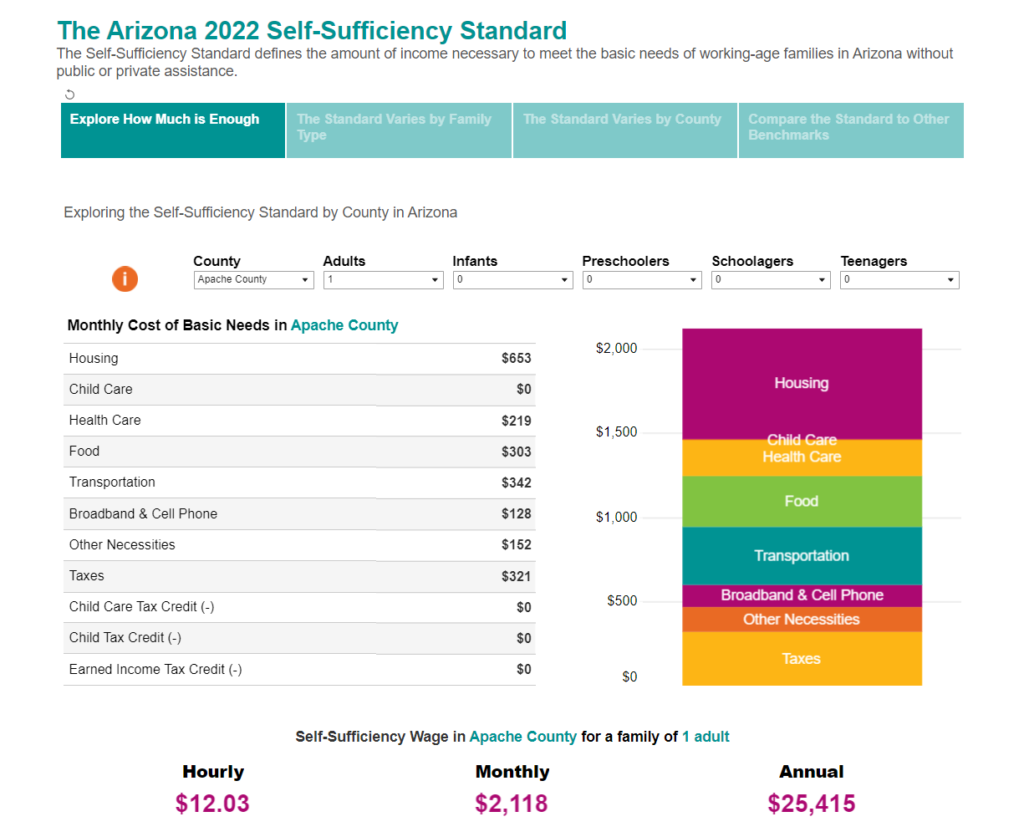 "To put this in perspective, the Self-Sufficiency Standard shows that a single adult with one infant living in Pima County needs to make at least $50,000 a year We know that people in low-wage jobs experience higher levels of poverty, especially following the pandemic. This is very much true for people of color and single-mother led households who are not able to move out of low-wage jobs," said WFSA's Director of Research and Advocacy Gauri Gladish.

WFSA has set a pay scale for the organization that aligns with the Self-Sufficiency Standard, which provides employees with a sustainable wage, resulting in increased retention, productivity, and staff morale. WFSA has already been asked by local and national agencies about how they implement the Self-Sufficiency Standards in their pay determinations.

"As an organization dedicated to addressing economic barriers for women in Arizona, we are excited to reveal this updated tool that the community can use to set salary standards and move women and others towards self-sufficiency," said Gladish.

Visit womengiving.org/research to explore how much income is necessary to meet the basic needs of working-age families. The interactive tableau is accessible by phone, tablet, or computer.